The development of BTL™ geomembranes.
A new wave in lining.
In the USA of the 1980s it became appearent that there's an emerging need for a new kind of alternative to the soft PVC, HDPE and EPDM geomembranes already on market. A goal was set to develop a material that makes prefabrcation possible, so the installation can be fast and cost-effective .
The new material's development had to consider the advantageous properties of the already available materials, for example the strength of HDPE, the flexibility of EPDM (rubber liner) and the competitive price of soft PVC. The solution needed to combine the most important advantages and provide a lightweight material structure.
The development resulted in the combination of a scrim woven of thin HDPE tapes and special coatings (RPE - reinforced polyethylene). Since then, BTL™ became a worldwide leader in water containment. Nearly 4 500 000 m² of BTL™ geomembanres are installed every year. The industry's largest single panels can be prefabricated of the tough and reliable BTL™ liners.

Field installation is faster, less expensive and less risky.
Can be prefabricated in huge panels.
Depending on the thickness, BTL™ geomembranes can be prefabricated into several thousand square meter big panels. This unique feature is the result of the extremely low weight and high material strength.
As a result, a project prepared like this, requires a lot less field welding, which speeds up the installation and reduces the need for manpower. This makes it possible to significantly lower the costs and risks as well. The installation is less exposed to the weather and ground conditions.
Very strong and flexible at the same time.
Woven structure and special coatings.
BTL™ geomembranes are strong and flexible even at a relatively low material thickness, thanks to the woven structure and special coatings.
The unqiue coatings provide excellent heat seaming weldability and make the material resistant to hydrostatic-, abrasive- and UV exposure.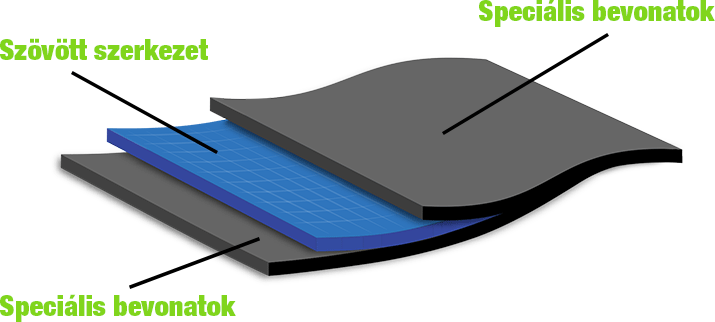 Lightweight.
Much lighter than other lining materials.
Thanks to their material structure, the weight of BTL™ geomembranes is much lower than the weight of soft PVC, HDPE and EPDM liners at the same or higher material strength.
Lower weight means numerous advantages, such as lower shipping costs, easier handling and installation.
Resistant to weathering effects. Recyclable.
No trouble with contraction or expansion.
The material structure results in a minimal heat contraction-expansion ratio.
Resistant to a broad range of chemicals. Fish and plant safe, can be fully recycled.
Excellent heat seaming weldability.
Can be faricated using common equipment.
BTL™ geomembranes can be heat welded with wedge welders and hot air welders as well. Thus, they can be fabricated using equipment that's already used for HDPE or soft PVC liners.